Dr. Vijaykumar Gavit, minister for health, govt. of Maharashtra has appreciated the contribution that the 'Nath Group' has given in last over three decades span, in the field of agriculture. Dr. Gavit while visiting our exhibition stall at 'Nandurbar Festival' held in the first week of March 2012, told to our staff there that, since he had his medical education at Govt. Medical College Aurangabad, he knows 'Nath Group' & its valuable contribution very well. Nandurbar dist is located at the northern end of Maharashtra state, & tribal population forms the majority of the dist. Cotton, chilli, are its main crops. Nath's fusion Bt cotton verities Arjun-21, Express & Jagannath-2 have definitely added to the prosperity of Nandurbar Cotton farmers, Mr. Minister admitted.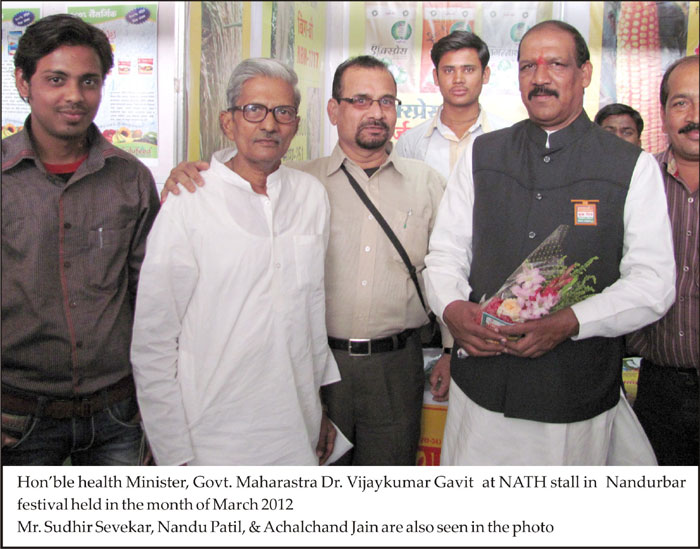 Hon'ble minister Dr. Vijaykumar Gavit was welcomed at the stall by our Kandesh regional manager Mr. Nandu Patil & his colleagues Mr. Purshottom Patil, Pravin Patil & Others. Mr. Minister & Other VIP's who were with him extended their greetings to Nath Group.

The stall was visited by over ten thousand farmers from Nandurbar dist & the adjoining districts of Gujrath & MP state.

Besides our cotton varieties, our single cross maize variety 'Singham' turned out to be the centre of attraction of this agri exhibition in which over 200 exhibitors had participated. Our distributor at Nandurbar Mr. Achalchandji Jain was actively involved in the event & he has thanked NBIL management for participating in this event.